Toyota Tacoma  the most popular trucks. Its durability, performance and good looks make it easy to understand why the Tacoma has so many fans. If you're considering buying a Tacoma, you can save money by buying a trusted used one.
There are so many used toyota tacoma for sale that narrowing down the best looks can be difficult. The upside is that you have many options for finding the used Tacoma for your needs. Here are our top tips for finding a Toyota Tacoma you'll love driving.
Try Auto Auctions
Don't forget the car auctions when looking for a used Toyota Tacoma. It is a way to find quality cars at a good price, and they can also be fun. Local car auctions allow you to bid on trucks, and you might even find a gem with a price that surprises you. You can prepare to be competitive or sit back and enjoy the experience.
As part of your search, you should also check online auction sites like eBay Motors. Online auctions don't limit you to local options—instead, you can bid on Tacomas nationwide. If you're looking for a used Toyota Tacoma online auction, you'll need to consider the shipping cost before you start shopping for a truck. You can also drive to the location and pick up your car.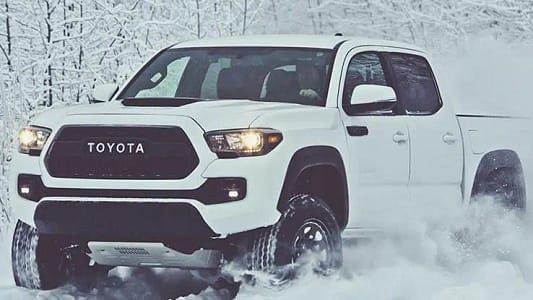 Search for Individual Sellers Near You
Don't forget local retailers when you're ready to buy a used Toyota Tacoma for sale. Sometimes the best choice for a great price on a truck is a previous owner. Keep an eye out for Tacomas for sale as you drive around with your normal routine, or take a few hours to search front yards and parking lots for trucks for sale. Individual sellers are often willing to negotiate and find a fair price.
You can also look for local sales on sites like Craigslist and AutoTrader. Sites like these allow you to narrow your search by city or distance from your specific zip code or location. Some sites even let you narrow your search by year, colour, or specification.
Things to Consider When You're Ready to Buy a Used Truck
When looking to buy a used Toyota Tacoma, it's easy to become blinded and frustrated by your desire. It would be best to compare the price of the vehicle to the Kelley Blue Book value to ensure it is not selling for above market value and look for comparable vehicles. Check to see if this is the normal price for your area. You should also consider the condition of the truck: mileage, engine problems, and interior and exterior condition can all affect a vehicle's value.
Don't be afraid to ask relevant questions, whether buying from a professional seller or a private individual. Ask your dealer about the vehicle's service history and any accidents it may have been involved in. Additionally, if you have the vehicle identification number (VIN), you can use a website like CARFAX to verify the truck's ownership, maintenance, and accident history. To confirm that it is in good condition and available for sale.